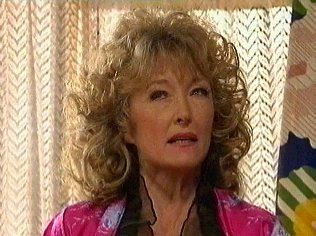 Mary Millar - Rose
Mary Millar plays the part of Daisy's sister who is always going out with different men and is often admired by many me due to her short skirt.
Mary Millar (26 July 1936 – 10 November 1998) was a British actress best remembered for her role as Rose in BBC sitcom Keeping Up Appearances. She was born Mary Wetton in Doncaster, Yorkshire
Millar began her career in 1962 in Lock Up Your Daughters and gained acclaim for her role in Keeping Up Appearances as Rose replacing Shirley Stelfox.
Rose was a popular character in the sitcom Keeping Up Appearances. She had a fancy for young men and nearly always got her way.
She also appears on the original cast album of Andrew Lloyd Webber's musical The Phantom of the Opera as Madame Giry, and as Mrs Potts on the London cast album of Beauty and the Beast composed by Alan Menken with lyrics by Howard Ashman and Tim Rice.
She recorded her vocals for Beauty and the Beast shortly before she died of ovarian cancer in 1998 at the age of 62. She died in Brockley, London. An episode of Keeping Up Appearances was broadcast on BBC1 the following week and dedicated to her.
Television Roles
1991 – 1995 - Keeping Up Appearances - Rose
© 2013 The Official Keeping Up Appearances Fan Club and Forum & BBC