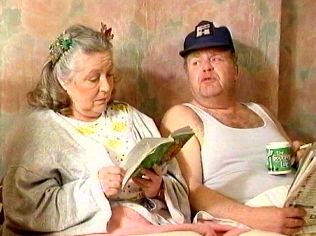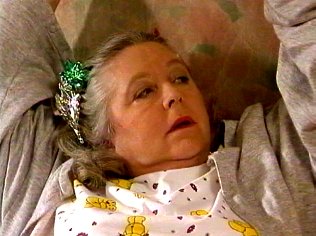 Judy Cornwell - Daisy
JUDY CORNWELL IS AN HONORARY MEMBER OF THE FAN CLUB

Judy Cornwell plays the part of the very simple but very caring 'Daisy'.
Judy Valerie Cornwell (born 22 February 1940) is an English actress best known for her role as Daisy in the British sitcom Keeping Up Appearances.
Biography
Judy Cornwell's father served in the RAF and she grew up in Britain where she attended a convent school, before moving to Australia where her family emigrated. She has written about her childhood experiences in her autobiography Adventures of a Jelly Baby. She returned to Britain, where she became a professional dancer and comedian in her teens, working her act between the nudes at the Windmill Theatre before becoming an actress. Her long career includes roles in radio's The Navy Lark, the controversial play Oh! What A Lovely War, her own TV comedy series Moody and Pegg, and several seasons with the Royal Shakespeare Company.
Movies and television
Judy Cornwell's movie roles include Santa Claus: The Movie and Mad Cows. On television she has appeared in Dixon of Dock Green, Bergerac, Doctor Who (the episode Paradise Towers), several episodes of Farrington of the F.O., The Famous Five, The Bill, Heartbeat, and Midsomer Murders. She also appeared on radio as WREN Cornwell in The Navy Lark. Judy is also appearing in BBC soap opera EastEnders as Queenie Trott, the mean tyrant mother of lovable loser Heather Trott. She is best known, however, for her portrayal of lovable working-class housewife "Daisy" in the popular sitcom Keeping Up Appearances, which ran from 1990 to 1995.
Published works
Judy Cornwell has published a number of books, including her autobiography Adventures of a Jelly Baby (published in 2005), and several novels, including Cow and Cow Parsley in 1985, Fishcakes at the Ritz in 1989, The Seventh Sunrise in 1994, and Fear and Favour in 1996.
Personal life
JudyCornwell married John Kelsall Parry on December 18, 1960, and they have one child.
Her grandmother was Music Hall singer Sarah Bonner.
Television roles
1974 - Moody and Pegg -Daphne Pegg
1976 - Cakes and Ale - Rosie
1980-1981 - The Good Companions,
1983 - Jane Eyre - Mrs. Reed
1985 - There Comes a Time - Vanessa James
1987 - Doctor Who "Paradise Towers"- Maddy
1987 - Dorothy L. Sayers Mysteries "Strong Poison"- Miss Booth
1990 – 1995 - Keeping Up Appearances - Daisy
1992 - Nice Town - Aunt Peggy
1998 - The Life and Crimes of William Palmer - Mrs. Palmer
2007, 2008 - EastEnders - Queenie Trott
Movie roles
1967 - Two For The Road - Pat
1968 - The Wild Racers - Pippy
1970 - Brotherly Love - Rosie
1970 - Wuthering Heights - Nelly Dean
1970 - Every Home Should Have One - Liz Brown
1971 - Whoever Slew Auntie Roo? - Clarine
1985 - Santa Claus: The Movie - Anya
1987 - Cry Freedom - Receptionist
1995 - Persuasion - Mrs. Musgrove
© 2013 The Official Keeping Up Appearances Fan Club and Forum & BBC