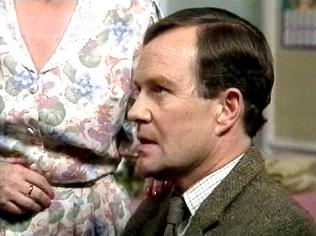 David Griffin - Emmet Hawksworth
David Griffin played the part of the awfully nervous 'Emmet' who was always frightened that he might be invited to coffee by Hyacinth.
David Griffin (born 19 July 1943) is an English actor best known for both his roles as Sqdn-Ldr Clive Dempster DFC in Hi-de-Hi! between 1984 and 1988 and Emmet Hawksworth in Keeping Up Appearances between 1991 and 1995.
He appeared in later series of Hi-de-Hi! as Squadron Leader Clive Dempster DFC; and later as Emmet Hawksworth, the beleaguered musician neighbour of Hyacinth Bucket in the sitcom Keeping Up Appearances.
After finishing Keeping Up Appearances, he toured worldwide, with Su Pollard, in the stageshow The Good Sex Guide.
Other television appearances include a guest role in an episode of Doctor Who ("The Sea Devils"), 'Allo 'Allo! and Dixon of Dock Green.
© 2013 The Official Keeping Up Appearances Fan Club and Forum & BBC