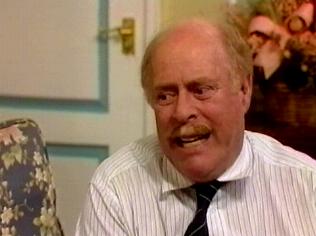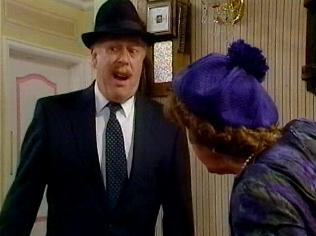 Clive Swift - Richard Bucket - (pronounced Bouquet)
Clive Swift played the part of the very patient 'Richard Bucket'. How on earth is he so patient?
Clive Walter Swift (born 9 February 1936) is a British actor who is best known for his starring role as Richard Bucket in the British sitcom Keeping Up Appearances.
Clive was born in Liverpool, England, the son of Lily Rebecca (née Greenman) and Abram Sampson Swift. He was educated at Clifton College and Gonville and Caius College, Cambridge, where he read English literature. He was previously a teacher at LAMDA and the Royal Academy of Dramatic Art.
Clive Swift has appeared in many TV series and movies. In the 1970s, he appeared as 'Doctor Black' in two of the BBC's M.R. James adaptations: The Stalls of Barchester and A Warning to the Curious. He is most noted for his performance in Keeping Up Appearances, starring as Richard Bucket, the long-suffering husband of Hyacinth. He also starred in the BBC adaptation of The Barchester Chronicles and appeared in the Doctor Who story Revelation of the Daleks. On 25 December 2007, he appeared in a Doctor Who Christmas special as Mr Copper. He also played Sir Ector, the adopted father of King Arthur in John Boorman's 1981 film Excalibur
Swift was formerly married to novelist Margaret Drabble (1960-1975). He is the father of one daughter, Rebecca, who runs The Literary Consultancy in London's Free Word Centre and two sons, Adam, an academic, and Joe Swift, a TV gardener. His brother, David Swift, is also a well-known actor.
As well as acting, he is a songwriter. Many of his songs are included in his show, Richard Bucket Overflows: An Audience with Clive Swift, which toured the UK in 2007 and Clive Swift Entertains, performing his own music and lyrics, which toured the UK in 2009.
Film
Death Line (1972)
Frenzy (1972)
The National Health (1973)
Excalibur (1981)
A Passage to India (1984)
Television
The Old Guys as Roy
Born and Bred as Reverend Brewer
Peak Practice as Norman Shorthose
Aristocrats (TV mini-series) as King George II
Keeping Up Appearances as Richard Bucket
Doctor Who
Revelation of the Daleks as Jobel
Voyage of the Damned as Mr Copper
Waugh on Crime as Inspector Waugh
Beasts - "The Dummy" as Bunny
First Among Equals as Alec Pimkin
Inspector Morse - The Silent World of Nicholas Quinn as Doctor Bartlett
The Liver Birds - as Jim Royle
Stalls of Barchester
A Warning to the Curious
South Riding
The Pickwick Papers (1985 television series)
Radio
Oblomov as the Doctor
The Right Time
From Fact to Fiction - The Orchard as The Narrator

Stage
Cymbeline (1962) as Cloten
Main Television roles
1980 - The Nesbitts Are Coming - Ernie Nesbitt
1985 - The Pickwick Papers - Tracy Tupman
1985/2007 - Doctor Who - Jobel/Mr. Copper
1990 to 1995 - Keeping Up Appearances - Richard Bucket
2009 - The Old Guys - Roy Bowden
© 2013 The Official Keeping Up Appearances Fan Club and Forum & BBC